What is recycled nylon yarn?
As we all know, nylon is a petroleum-based material and producing it causes a high cost in energy and greenhouse gases.
Incorporating as much recycled nylon as we can lessens our dependence on virgin petroleum as a raw material source, helps eliminate discarded material and reduces greenhouse gas emissions from manufacturing. Using recycled nylon also promotes new recycling streams for nylon products that are no longer functional.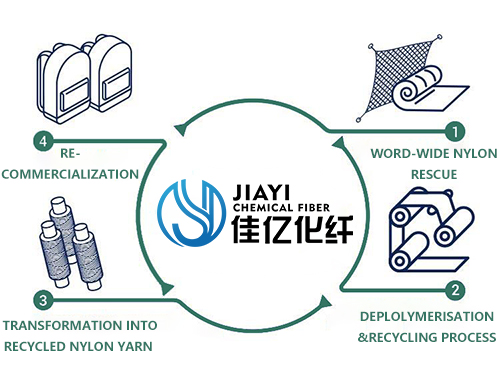 Switching to preferable materials that have a more positive impact on people and the environment compared to conventional. It diverts waste from landfills and its production uses much fewer resources than virgin nylon (including water, energy and fossil fuel).Recycled nylon is considered a preferred alternative to virgin nylon and bio-based nylons (produced with renewable raw materials) potentially offer a  promising alternative.
Where does it come from?
According to different origins, the recycled nylon chips are classified into two kinds:
Post-consumer Normallymaterials come from products like plastic bottles, fishing nets, worn-out clothes or discarded carpeting that have been bought, used in the world and then trashed.
Pre-consumer waste material, material diverted from the waste stream during the manufacturing process. Excluded is the reutilization of materials such as rework, regrind or scrap generated in a process and capable of being reclaimed within the same process that generated it, which comes from industrial processes, includes scraps of material in a factory that would have otherwise been down-graded or sent to a landfill.

Most of the nylon we use now comes from a mechanically recycled pre-consumer source. These materials would have gone into lesser-quality goods if we hadn't used them in our products.
Recycling nylon is still more expensive than new nylon, but it has many environmental advantages. It is estimated to be the main stream in textile.
A lot of research is currently being conducted to improve the quality and reduce the costs of the recycling process.
Applications